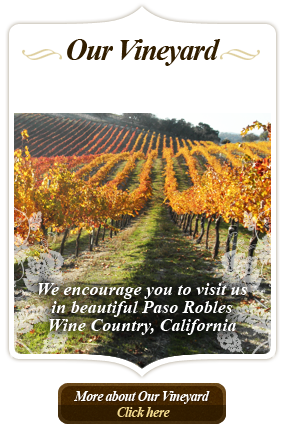 Victor Hugo Winery
Victor Hugo Vineyards and Winery is one of Paso Robles' most exciting and innovative wineries. Victor Hugo Roberts is the owner/ winemaker of the small family operated vineyard and winery. The family legend has it that he was named after a great uncle and a great grandfather (the man who Anglicized the family name from the French name Robert to Roberts), with no reference to any literary connection.
In 1982, equipped with an enology degree (U.C. Davis, 1979), and 3 years of winery experience, Vic took a position at a new winery in the Paso Robles area. The dream of owning his own vineyard and winery took its first step into reality in 1985 when he and his wife, Leslie planted 15 acres on the Templeton property which contains the family home and winery. The winery is located in a picturesque, recently renovated 100 year old barn. More vineyards were added through the years, and the total stands at 78 acres planted to Chardonnay, Zinfandel, Syrah, Petite Sirah, Viognier and 5 Bordeaux reds - Cabernet Sauvignon, Cabernet Franc, Merlot, Malbec, and Petit Verdot.
The Victor Hugo winery estate vineyard is located in the Templeton Gap with warm days, breezy afternoons, and cool nighttime temperatures. Planted on the rugged, shale hillsides of the property the vineyard receives meticulous care including vertical shoot positioning, shoot thinning, cluster thinning, and leaf pulling. The vines are grafted on four different root stocks (phyllexora and nematode resistant) specifically selected for drought tolerance, which allows the use of mild deficit irrigation to concentrate flavors and further improve quality.
Production is limited to retain outstanding quality and detail in all aspects of the process. Our vineyard and winery is committed to sustainable farming practices in all aspects of our vineyard and winery. Victor Hugo is a small family owned and operated winery specializing in small hand crafted lots of wine with intense colors and flavors. The winery is dedicated to producing elegant, rich wines exhibiting excellent longevity.